Are you ready to settle into Huntersville?
Let Mike Hege, MRE, Realtor® find you the perfect home before you set up your new business. Contact him today to get started!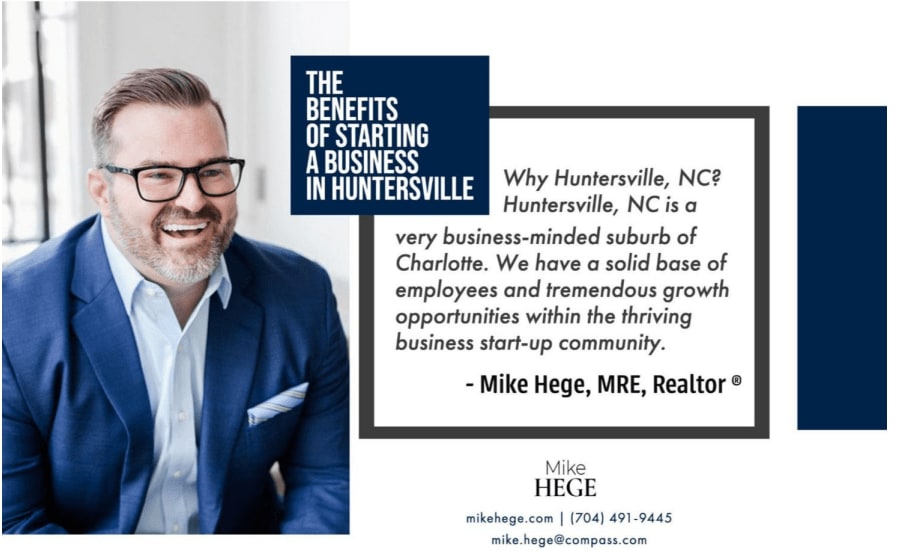 Why You Should Start Your Business in 
Huntersville, North Carolina
Huntersville is located in the heart of North Carolina's "Technology Corridor," which means it's primed for businesses in the tech industry. But it's not just tech companies that are thriving here; businesses across all industries are finding success in Huntersville. Mike Hege, MRE, Realtor® explains, "Why Huntersville, NC? Huntersville, NC is a very business minded suburb of Charlotte. We have a solid base of employees and tremendous growth opportunities within the thriving business start up community."
You have a lot of factors to consider when choosing where to start your business. Location is a primary concern. After all, you want to be located in a place that will be conducive to business growth and success. You want a place with a strong business community, a skilled workforce, and a low cost of living. And that's exactly what you'll find in Huntersville, North Carolina. Here's why Huntersville is the perfect place to start your business.
The Business Climate in Huntersville is Thriving
The town has a strong commitment to supporting local businesses, and the Chamber of Commerce offers a variety of resources and programs to help businesses grow and succeed. The town's location near Charlotte also makes it an ideal place to do business, as it provides access to a large population and a wide range of services. As a result, Huntersville is an excellent place to start or grow a business.
The Cost of Living is Affordable
Those considering a move to Huntersville, North Carolina will be happy to know that it is consistently ranked as one of the best places to live in the state. In addition to its affordable cost of living and convenient location (just a short drive from Charlotte), Huntersville boasts a high quality of life. The town is home to numerous parks and green spaces, as well as top-rated schools, making it an ideal place to raise a family. There are also plenty of shopping and dining options.
And for those who enjoy the outdoors, Huntersville is situated near Lake Norman, providing ample opportunity for fishing, swimming, and boating. With so much to offer, it's no wonder that Huntersville is considered one of the best places to call home in North Carolina.
The Quality of Life in Huntersville is Excellent
When you're running a business, it's important to have a good work-life balance. Fortunately, Huntsville has been ranked as one of the best places to live and work for that very reason. The town offers residents plenty of opportunities to enjoy their leisure time, with over 40 parks and greenways, lakeside dining and shopping options, and annual festivals and events. So when you're not working hard on your business, you can enjoy all that Huntersville has to offer.
A Skilled Workforce Ready to Work
Huntersville is also home to several institutions of higher learning, which means there's no shortage of talented workers ready to join your team. Graduates each year from two-year and four-year programs who are eager to join the workforce. So whether you're looking for entry-level employees or highly skilled workers, you're sure to find them here in Huntersville.
Startup Checklist for Your Small Business
If you're ready to take the leap, it helps to have a task list at the ready so you don't leave anything off your plate. While some of this only applies to new businesses, it helps to revisit some of these tasks even if you're simply relocating your business.
Research your business idea.
● Create a business plan.
● Set up your LLC in North Carolina and choose your business name.
● Secure funding for your business.
● Purchase insurance for your business.
● Set up your accounting and bookkeeping system.
● Market your business.
Get Established in Huntersville
If you're looking for an ideal place to start or relocate your business, look no further than Huntersville, North Carolina. With its thriving business community, affordable cost of living, and excellent quality of life, Huntersville has everything you need to launch your LLC and see it succeed. Start planning your move to Huntersville today.