Pineville, NC: Where Small-Town Charm Meets Big-City Convenience - A Realtor's Guide to the Perfect Place to Call Home
As a realtor, I'm always excited to introduce newcomers to Pineville, North Carolina - a small, charming town located just south of Charlotte. With its welcoming community, rich history, and beautiful natural surroundings, Pineville is the perfect place to call home. Let me tell you more about what makes Pineville such a special place to live.
Community
One of the most appealing things about Pineville is its strong sense of community. Despite being just a stone's throw from a major city, Pineville has managed to maintain its small-town charm and friendly atmosphere. The people here are warm and welcoming, and the town is known for its strong volunteerism and community involvement. Pineville is a great place to raise a family, start a business, or simply enjoy the company of friendly neighbors.
Location
Another great thing about Pineville is its convenient location. The town is just 10 miles south of Charlotte, making it easy to enjoy all the benefits of a major city while still enjoying the peaceful atmosphere of a small town. The town is also located just off of I-485, providing easy access to other areas of Charlotte and the surrounding region. Additionally, Pineville is just a short drive from popular outdoor destinations like Lake Wylie and the U.S. National Whitewater Center.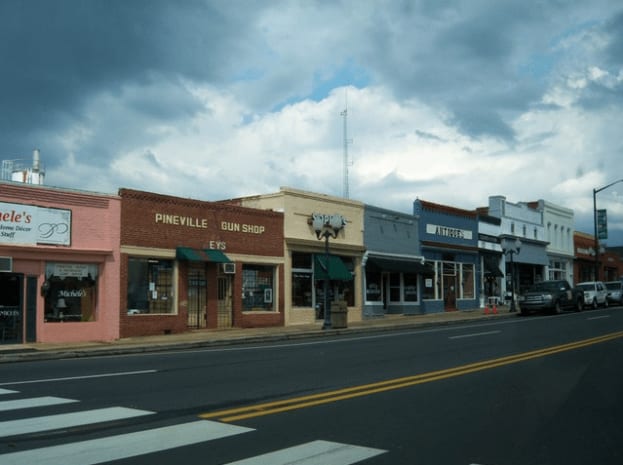 Historic Downtown
Pineville's downtown area is another major draw for residents and visitors alike. The historic downtown area is filled with charming shops, cafes, and restaurants, all located in beautiful, well-preserved historic buildings. It's a great place to shop, eat, and enjoy a leisurely stroll through the town's picturesque streets.
Real Estate
Pineville's real estate market is thriving, with a range of properties available to suit every taste and budget. Whether you're looking for a cozy starter home or a spacious family estate, you're sure to find the perfect property in Pineville. The town is known for its beautiful, well-maintained homes and neighborhoods, and its convenient location makes it a popular choice for homebuyers who want to be close to Charlotte without sacrificing a peaceful, small-town lifestyle.
Schools
If you have children, you'll be pleased to know that Pineville is part of the Charlotte-Mecklenburg School District, which is known for its high-quality education. The district has several highly-rated schools, including Pineville Elementary School, Quail Hollow Middle School, and South Mecklenburg High School.
Recreation
Pineville offers plenty of opportunities for outdoor recreation. The town is home to several parks, including Jack Hughes Park and Pineville Lake Park, which offer a range of recreational activities, from playgrounds and picnic areas to fishing and walking trails. Pineville is also just a short drive from Lake Wylie, a popular destination for boating, fishing, and water sports.
In conclusion, Pineville, NC is a wonderful place to call home. With its welcoming community, convenient location, historic downtown, and beautiful natural surroundings, it's easy to see why so many people are choosing to make Pineville their permanent residence. If you're interested in learning more about real estate opportunities in Pineville, don't hesitate to contact me for more information. I look forward to helping you find your perfect home in this charming town!